PP PE Plastic Film Shredder, Agriculture Film Shredder, PP PE Plastic recycling machine
View large picture
Description:
PP PE Plastic Film Shredder, Agriculture Film Shredder, PP PE Plastic recycling machine uses the interaction of movable cutter heads and fixed knives to tear, cut and extrude the material into small size. It can be available for shredding a wide range of materials including plastic, wood, rubber, and paper etc. The cutter head is consists of basic shaft and pieces of quadrangle cutter. There are four edges which are easy to change. 'V' shaped rotary cutters are fixed on single shaft. The fixed cutter is mounted at an angle in adjacent to rotary cutter to achieve better cutting. The material is grabbed between 'V' shaped rotary cutters and fixed cutter shreds repeatedly. During the grinding process, the evenly cutting, saving of energy and reducing of noise are ensured by the installation of 'V' shape rotor knives. Also the knives are very easy to install and remove.
Single Shaft Shredder 'V' shaped blade:
The motor drives the shaft to make knife rotates in high speed, the material are put to between the knife shaft and fixed knife, the materials are shredder, the qualified size will discharge from the screen mesh, the oversize material will be send back for re shredding. The final product size can be adjusted by changing the final product size.
Components: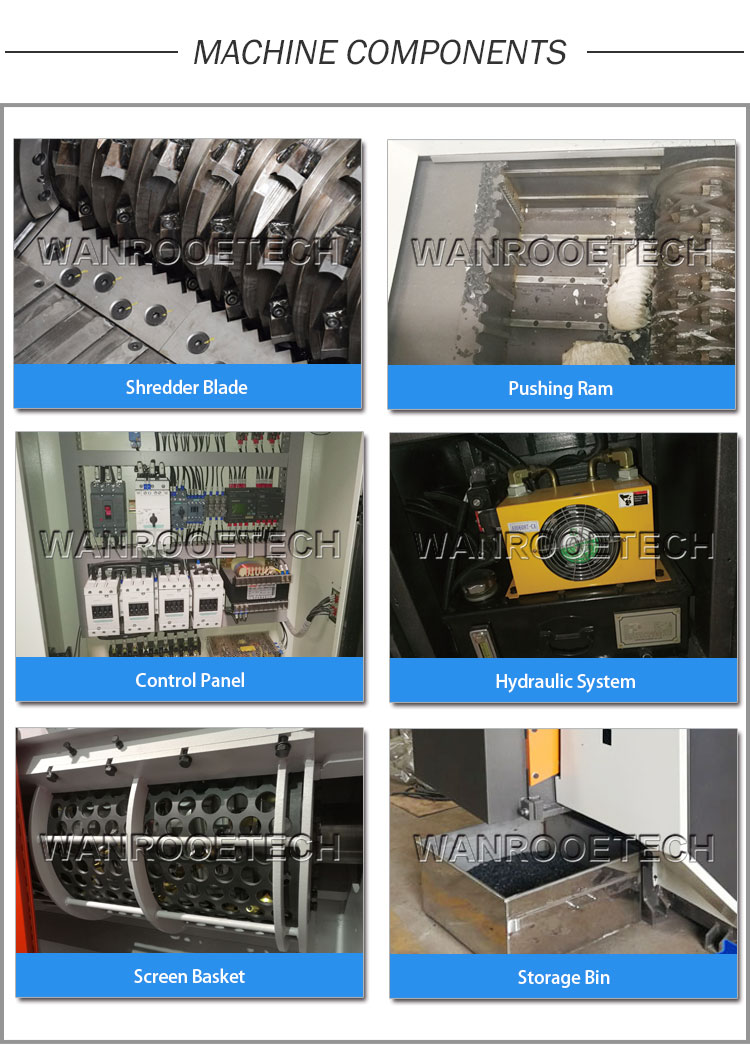 1. The shredder single shaft for plastic with big feeding mouth, it can put the big plastic or rubber product freely.
2. The rotary and cutting blade with edge of special design, it can get very high efficiency and high capacity.
3. The shredder single shaft for plastic is control by PLC system; the blade can rotate inopposite direction and close automatically if something unexpected happens; with very high safety service.
4. The shredder single shaft for plastic runs slowly with low noise and less dusty.
5. The blade material with special alloy steel made, with long life.
6. All the machinery and electrical devices are protected in accordance with the European CE standard.
7. Hydraulic system Pushes the material automatically to the shredding rotor while working. More efficient and can achieve a high capacity. According to material kind, can adjust the pushing speed to avoid overload.
8. Cooler system(optional) can maintain the temperature for continuous operation.
Application Areas:
The single-shaft shredder is used to recycle plastic, paper, wood, fiber, cable, rubber, home appliance, light steel, municipal solid waste, etc. It is ideally suited for reduction of a wide range of different materials:
•Refuse-derived fuel: straw, municipal solid waste;
•Textile: cloth fibre, nylon;
•Paper: industrial waste paper, packing paper, cardboard paper;
•Cable wires: copper core cable, aluminium cable, composite cables;
•Polypropylene pipe, industrial packaging & plastic films, PP woven bags;
•Plastic: plastic block, plastic sheets, PET bottle, plastics pipe, plastic container, plastic drums.