Tire Shredder Waste Tyre Recycling Machine
View large picture
Description

Video

Business Terms

Service
Description:
The TDF tire shredding Machine system is designed to produce up to 1.2-10 tons per hour of TDF. TDF systems produce a 25mm to 152mm (1''-6'') rubber chip, which is used as a coal additive for industrial boilers. Many of these facilities are turning to TDF because it burns hotter and cleaner than coal and is more cost effective. Rough shreds can be outputted for use or processed further to remove steel from the rubber resulting in Wire-free TDF. This plant is made of two main parts:double shaft shredder and screen.
Components:
1. No polluted water, no waste gas and no waste residuce during production process;
2. Compact structure, small space and easy maintennance;
3. Lower energy consumption and good cost performance of investment;
4. shredder is designed with a powerful engine, long working length and aggressive input, Internal feeding volume bigger than traditional and common single shaft shredder machine;
5. The two cutting rotors powerfully grab the feed material;
6. Any overloads caused by foreign material are sensed by the PLC controller and cause the shaft rotation to stop and reverse direction to clear the foreign matter, and then resume;
7. Screen is used to make sure the size of the output can meet each customer's requirement( From 40mm--75mm);
8. Cutters removal and replacement can be carried out safely and simply.
9. Our tire shredders Use a planetary reducer, not a traditional gearbox, and the planetary gearbox has the following advantages:High Efficiency,Greater Stability,Compact Size, Higher Torque Density, Cost Effective Precision, High Radial Loads.
Application Areas:
•Civil Engineering Applications: They can be used as landfill gas trench collection walls, as back fill for road landslide repair, as vibration reducing material for railway lines and as back fill for maintaining walls.
•Ground and Crumb Rubber: For example, it can be used in paving projects or be moulded into products. Common examples of rubber moulded products include carpet padding, rubber flooring materials, patio decks, livestock mats, movable speed bumps, sidewalks, dock bumpers, railroad crossing blocks just to mention but a few.
•Carbon Source: Instead of using coke or coal in steel mills, rubber can be used as a source of fuel. In fact, studies have recommended that steel mills should adopt burning of rubber as fuel instead of coal, since coal is mined and can be depleted. Using rubber as fuel is a great way for these mills to go green and reduce their carbon fingerprints.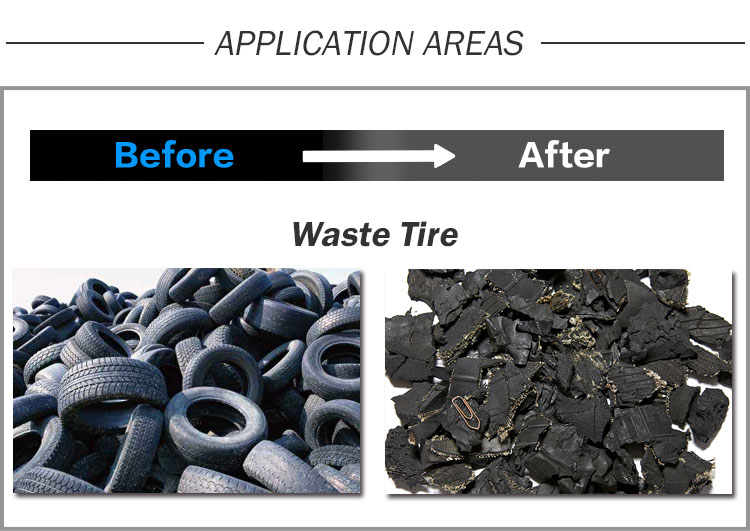 Parameters:
| | | |
| --- | --- | --- |
| Model | Shreddering Motor Power (kw) | Shreddering Chamber size(mm) |
| PNSS-300 | 7.5 | 510×300 |
| PNSS-400 | 7.5 | 510×400 |
| PNSS-600 | 7.5+7.5 | 510×600 |
| PNSS-800 | 18.5+18.5 | 600×800 |
| PNSS-1000 | 22+22 | 800×1000 |
| PNSS-1200 | 30+30 | 1000×1200 |
| PNSS-1400 | 55+55 | 1400×1200 |
| PNSS-1600 | 55+55 | 1600×1200 |
| PNSS-1800 | 75+75 | 1800×1400 |
| PNSS-2000 | 90+90 | 2000×1400 |
Product Type: China's High Quality Manufacturer for Tire Shredder Waste Tyre Recycling Machine
Used For Material:Car Truck Tire,tyre,bus tire etc.
Application Field: tire recycling .
Place of origin:China
Price Terms:EXW,FOB, CIF
Payment Terms:L/C,or T/T
Package:Wood Box, Wood pallet, tailor-made
Delivery Time:15-30Working days
Brand Name:WANROOETECH
Delivery Times
30-90 working days since receiving advance payment. If you cannot wait for this suggested delivery time, please contact us freely, we will make any arrangements we can to meet your requirements.
Packing
Wood Pallet, fumigation-free wooden cases if necessary. All the key parts of the equipment will be painted with anti-rust oil before shipment and packing.
Technical documents
WANROOETECH will offer you all necessary documents, e.g. general layout plan, electrical diagram and user manual after the contract is executed.
Arrangement for inspection, installation and testing work
After informed machines ready for inspection, customer can send engineers to WANROOETECH; Customer also can consign WANROOETECH to finish inspection work.
When the machines are delivered to customer's factory, please arrange preparation work before engineers arrive if require.
WANROOETECH will send technicians to the factory after preparation work is completed;
Technicians will be responsible for guide on-site installation and testing machines involved.
Meanwhile technicians will give free training lessons to labors in customer's factory.
The customer just needs to bear expenses generated for this work, e.g. airplane tickets (round-way), residency, meals and allowance of USD50 per day for each technician.
Quantity and quality guarantee
A: Quantity/Quality Discrepancy to destination port during transportation:
In case of quality/quantity discrepancy to destination port in transportation, customer should file claim within 30 days after the arrival of the goods at port of destination.
B: Guarantee period and after-sales services:
12 month since installation finish and machine normal working. During this guarantee period, WANROOETECH will provide spare parts without any charge in case of quality discrepancy caused by us. If the malfunctions are caused by your incorrect operations, WANROOETECH will provide spare parts at cost.
C: Long-term service:
WANROOETECH will charge the buyer cost of spare parts beyond guarantee time and provide long-term technical guide.